Big Buff played most of the regular season with a grin on his face. Now, in the postseason, he's out there every shift grimacing and panting with an ungainly concentration winding up his features, and there is absolutely no mirth in him at all, not even when he scores. Slowly, he's learning what it means to labor. I kind of want to post every single fucking newspaper article written in the past week that has called him overweight and unmotivated, every single quote from a Vancouver player denying his impact on the game, every single doubtful post from Blackhawks fans. Tonight was worth enduring all of that.
Mad appreciation for Brian Campbell. Vancouver keeps thinking that they can hit him out of the game -- muscle the game out of him, if you will. Demitra is still day-to-day, last I checked. And Hordichuk certainly didn't exactly feel too good after he tried the same ploy tonight. The forcefield of bewilderment that surrounds him is alive and well, even if he is still the player most likely to lose his mind in front of the net and score a freak own goal. Tonight, though, he's +2 with two assists, and I'm proud to have him on my team.
I was experiencing some existential rage when the Canucks drew blood from Kaner TWICE and escaped penalties BOTH TIMES, but the devil lives inside this kid, I swear it. It rises out of him in a mist, this baby-faced defiant wrathful version of Pat Kane, escapes his bodily confines to perform satanic miracles all over the offensive zone. The only thing more fearsome than that assist was the keep-in preceding it. The only thing more unholy than his face is his black magic.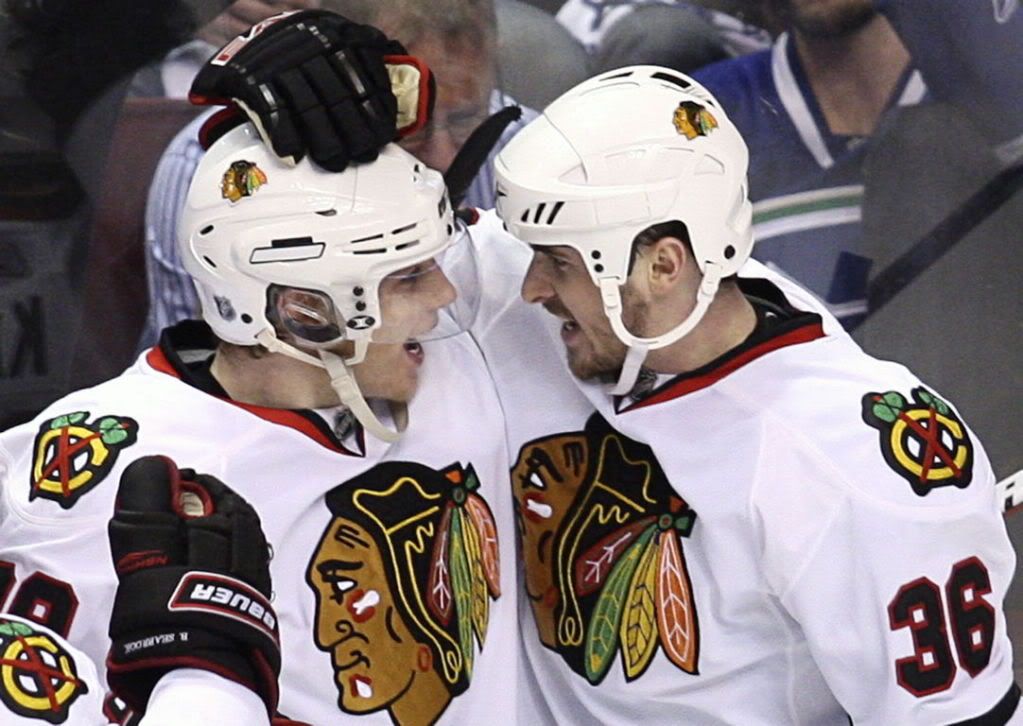 The stat sheet and TOI are both mistaken: Sammy Pahlsson was not a -1 tonight, and Dave Bolland should have been a +1 instead of +2. Sometimes I wish the league would employ stat keepers who aren't dyslexic. (Because yes, that one erroneous minus is KILLING my buzz right now.)
That game ran like the warm currents beneath a turbulent ocean surface.
DO IT IN SIX.