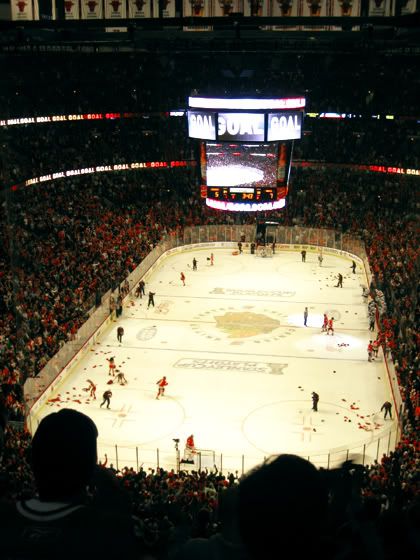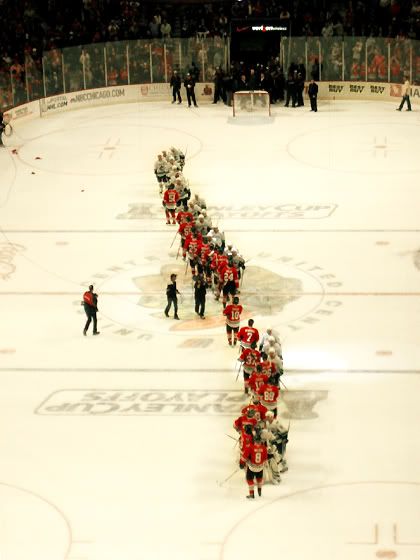 I shouldn't have words for this game. And I don't, not really, not while the mechanics of a flash flood are still beyond my understanding. Everything up until the third period was pretty even: goals scored, shots taken, penalties served, probably everything except hits and faceoff percentage. Then it was like a delayed lunar effect took hold of the game and veered it off-course. There wasn't one single pinpoint moment, one play that broke everything wide open. The next goal wasn't going to win the game, until the clock finally stopped. You couldn't tell which team was pressing and which team was playing a game of containment at any given moment, just like you couldn't see the entirety of the stars if you went outside right now and stared at the sky.

Best. Game. Ever. Just spine-tingling, from the pre-game montages, through the anthem, the untamed third period, Kaner's hat trick, and finally, that last full minute of noise, with the full force of Chicago pride embedded in every decibel.
This game encapsulated what I love about #19 and #88 -- Captain Serious scored both of his goals on the PP, while moving aggressively toward the net. The first one he banged in off his own rebound, after skating in front of the Canucks defensemen. The second one (the eventual winning goal), he banked off Edler while trying to feed Sharpie cross-crease. Lucky, but also a direct result of how hard he works below the circles.

Kaner's hat trick, on the other hand, was spectacular because he is so unpredictable. First, he blew past Ohlund at the blue line to create a partial breakaway before finding the soft corner above Luongo's glove. The second one was lucky, but luck is always part of the equation; it's in the cell makeup of the boards, the puck, the ice at any given time and angle. That goal was possible because of two good bounces and a determined finish. The third one, the one that finally signaled the end, was pure sorcery, if not in the feint that got him past SOB, then certainly in that backhanded finish across his body.

Most nights, I prefer the Toews method as a principle of realism. Once in awhile, though, it's okay to believe in the paranormal and to embrace it. Tonight, with the moon looking as monstrous and yellow as it does, seems like a good time.
Not sure if you can classify this thing between Mitchell and Kaner as a battle of wills, since only one person had been opening his mouth prior to tonight, but I truly enjoyed 1:32-1:56 of this video:


"Anytime you get a wake-up call from old Willie Mitchell over there ... I don't know if you want to fire up a player like that throughout the series, but he decided to make some comments and kind of fired me up a bit. He said I couldn't play 5-on-5. I think I had three goals 5-on-5 tonight."
The internet is cracking me up right now with the deluge of refereeing-related butthurt. Let me break down some reason. The Canucks didn't win game six because: 1) they couldn't keep a lead, 2) they forgot how to block shots, 3) they failed on special teams, and 4) Luongo had a poor game.

The Canucks didn't win the series because: 1) they couldn't keep a lead, 2) they couldn't decide on a style of play (I would talk more about Vigneault getting outcoached if I actually, you know, cared), 3) the Sedins/Burrows line was shut down at even strength, and 4) the defense allowed 21 goals in 6 games. If you believe in karma (which I don't), you can also tack on "they couldn't back up their smack talk." Oh, and "the Vancouver media shat out inflated expectations." Canucks in six? REALLY? The season series ended at 2-2 and the 'Hawks had more points than the Canucks while playing in a division that sent four (4) teams to the postseason. Canucks in six? REALLY???
Rick Morrissey's column about the game is amazing. (Everything Burish says is gold.)