So Kris Versteeg is now gone. In the philosophically immortal words of Fergie, I'm gonna miss you like a child misses their blanket.
Apparently, Coach Quenneville and Stan Bowman felt the same way and at least wrote Kris a nice joint letter upon his departure. 
And no crappy, sad letter is ever complete without an even crappier Fergie accompaniment... 
La da da da
The smell of your skates lingers on me now
You're probably on your flight to that hockey hell-hole town
I needed a respite to keep from having a coronary
Too bad you're not a true center
Finally - peace, serenity
- Q

I hope you know, I hope you know
That this has nothing to do with you
It's personnel, my dad and I
We've got some salary cutting to do
And I'm gonna miss you and your 3 million cap hit
But I've gotta make a move for a VerBeauty Lite
It's time to be a big Bowman now
And Bowmans don't cry
Don't cry, don't cry, don't cry
- Stan (the MAN ;)
Fairy tales don't always have a happy ending, do they?
- Stan and Q
Last night cliffkoroll asked "So how many are in our core and who are they?" And then my mind went off on a tangent and created this FanPost because I think there is still one more player left to go due to the Capocalypse.
Yes, I left a few roster spots open. I also left off UFA's, except for Johnsson. (But just to fill space. He's good for that, sort of.)
And for those who are missing out on any of the references, per the CNS
Urbane Dictionary for Dummies:
(Why did I include a dictionary for dummies for such obvious parodies? Because after listening to the hosts on 670 The Score today trying to discuss the salary cap, the "Dale Gate / Dale Rape" offer sheet fiasco, how contract bonuses effect the cap ("That's so stooopid!"), and Kyle Beach ("The Hawks need a goon"), my faith that intelligent life exists on this planet is at an all-time low.)
Mount VerSuvius = Kris Versteeg + Mount Vesuvius
Mount Antna = Antti Niemi + Mount Etna
Mauna Ladd = Andrew Ladd + Mauna Loa
Mount PinaToftbo = Niklas Hjalmarsson (Toftbo) + Mount Pinatubo
Cristobrrrr! = Cristobal Huet + It's freakin' cold here in Russia!
Johnsson = Wilson, from Castaway - and if you didn't get that one you must have been deserted on a tropical island for years
Koputnik = Tomas Kopecky + Kaputnik
     Per UrbanDictionary.com:
          Kaputnik: A conjunction of the word "kaput" (meaning "broken, damaged, destroyed") and "Sputnik." A clumsy or silly person.
     Per the CNS Urbane Dictionary:
          Koputnick: A clumsy or silly Blackhawk
And the FanPost title song lyrics (sung to Jimmy Buffett's Volcano of course)
Chorus/Stan Bowman:
I don't know
I don't know
I don't know why I wanted Dale to go
'Cause my new job blows
Bowman:
Gastric pressure building inside me 
Tidal waves, I feel queasy 
Sulphur smell like someone died
July 1st the shit will fly
Chorus/All:
Now, we don't know
We don't know
We don't know which one is gonna go
'Cause our cap space is blown
Versteeg:
Bowman quickly said to me
"Kris, you'd better pack your things
Your SC performance was really hot
You were thinking repeat? I think not."
Chorus/All:
See, we don't know
We don't know
We don't know which one is gonna go
'Cause our cap space is blown
It's gettin' ugly
Hjalmarsson:
No time to count what I'm worth
If I want to be on a team with a playoff birth 
But a' where I go I want my own room 
Not to worry, Johnsson's gone
Chorus/All:
We don't know
We don't know
We don't know which one is gonna go
'Cause our cap space is blown
Huet:
But I don't want to play in Khanty-Mansiysk City
The winter temp drops to 50 below (no no no)
And I don't want to play in Rockford - it's shitty
Don't they play hockey in Mexico? (no no no)
Ladd:
Don't want to play in Vancouver GM Place 
Or in Nashville, Tennessee (no no no)
Don't want to play in no San Jose Shark Tank
Or in the Cupcake Division for Philly (no no no)
Niemi: 
Don't want to drive on no damn Zamboni 
Don't understand joke about my Chinese blade (no no no)
Does this have something to do with my visa??
I got nothing more to say
Really, I don't...
Update:
Okay, maybe I'll just add this regarding the John Scott signing...
McClure said:
His brother is already in town visiting the Field Museum
My response:
Nope, it was actually John Scott himself incognito.

He was hanging with Lebron, trying to avoid all the media attention and speculation on whether we'd be able to land such a franchise player.

After he signed, he decided to take advantage of his notoriety and "pick up" some chicks...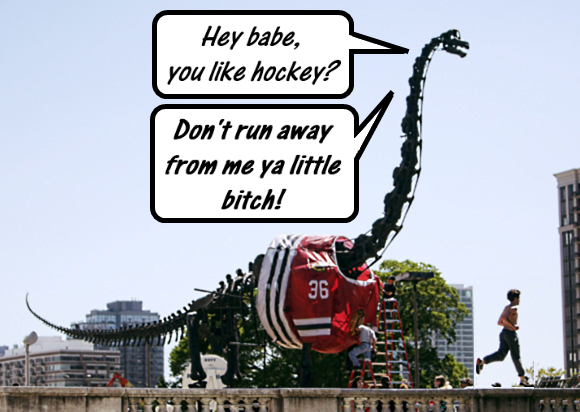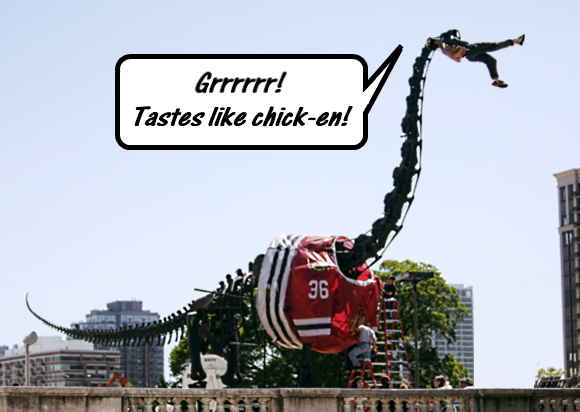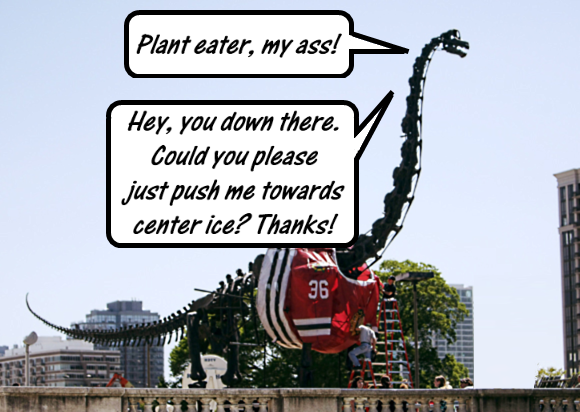 McClure gets credit for both assists on this one.