I was toying around on CapGeek.com and realized that a couple of my "fantasy lineups" aren't so unrealistic, so I figured I'd toss a couple of them out there.
Now to be clear, I don't believe these rosters are "realistic" either; I'm sure there will be other moves made instead. We keep hearing rumors about Hjalmarsson and Montador being shopped. Many would like Frolik moved, although I'd say give him another year. Bernier may not be the goalie the Blackhawks acquire. Even rumors about Kane being traded still persist. So who knows?
I didn't want to get into complex trades, I just wanted to show that a "generational" roster like the 2010 team is not completely "unrealistic" - and how stacked this team really is, even without any significant moves. (Either way, Stan sucks though.)
So without further ado, let's titillate ourselves - or more realistically, put ourselves through agony - with these lofty expectations.
Option 1 - The Dookiebazookie
First off, yeah, it actually fits under the cap. But how could it get done?
Signing Parise doesn't cost the Hawks any picks, prospects, or players, so that's just a question of money/terms and Zach's family convincing him that, yes, New Jersey really is a shithole. Shouldn't be too tough, right?
We've all discussed Bernier pretty thoroughly already. LA supposedly wants a 1st round pick. Hawks would probably have to send a 1st, a prospect (Hayes, Beach, Danault, Morin, Stanton, Paradis, Hutton, Simpson, Carruth, Whothefuckever - you get the idea. The Hawks have a ton in the system), and probably Emery.
Bobby Ryan is the toughest catch. He's got a cap hit of only $5.1M for the next three years. And for a guy with some size who will give you 30--35 goals like clockwork, that's dirt cheap. But would Anaheim really deal him to the Hawks? Almost definitely not, unless Stan sent Kane the other way. And if you send Kane the other way, this team has a bunch of goal scorer with no one to feed them the puck. So that doesn't make much sense unless Stan then deals Hjammer for a mid-level 2C. So, I doubt Ryan is realistic, but he fits fine under the cap and works for my illustrative purposes.
Stan would also have to shed Frolik and Monty, but their contracts aren't as bad as many believe. They can be moved for picks or prospects if necessary. Doesn't really matter.
With just one big UFA catch, one minor trade, and one major trade, the Hawks are again the deepest team in the league. Ah, the wonders of cap space! Who would've thought this was possible two years ago? (aside from cliff, who will obviously find some comment to backup a claim that he knew all along)
We like our people! And, looking at the roster above, we well should. Just how fucking awesome is the above team? There's a guy slotted on the 4th line who had more PPG in the OHL than the #1 draft pick this year. And there's a guy at 3RW who's pretty good at hockey. You're not him.
But you know what's most unrealistic about the above roster though? Brandon Bollig isn't on it. Sigh. Hopefully having Carcillo keeps Bollig at bay.
.
Option 2 - All We Need Is One Pin, Rodney!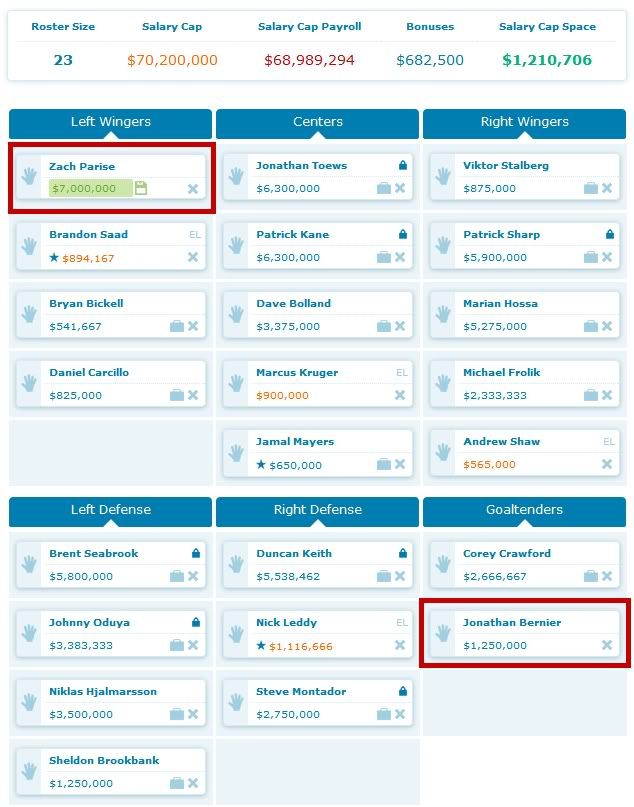 If the Hawks can sign Parise, is there really much else that needs to be done aside from finding a better goalie?
There are many different ways to arrange the top 9 - and I'm sure Q will indulge us - but does that roster look lacking in size or talent? The answer IMO is a simple "No." And the best part about the above roster, the Hawks have arguably more high end talent than any team in the league, are definitely as deep as any team in the league, and still have a boatload of prospects in the system. And when I say boatload, I mean...
And how should we feel about Brandon Saad getting some time in a top 6 role? Well, first let's look at how he compared to the Nail last season: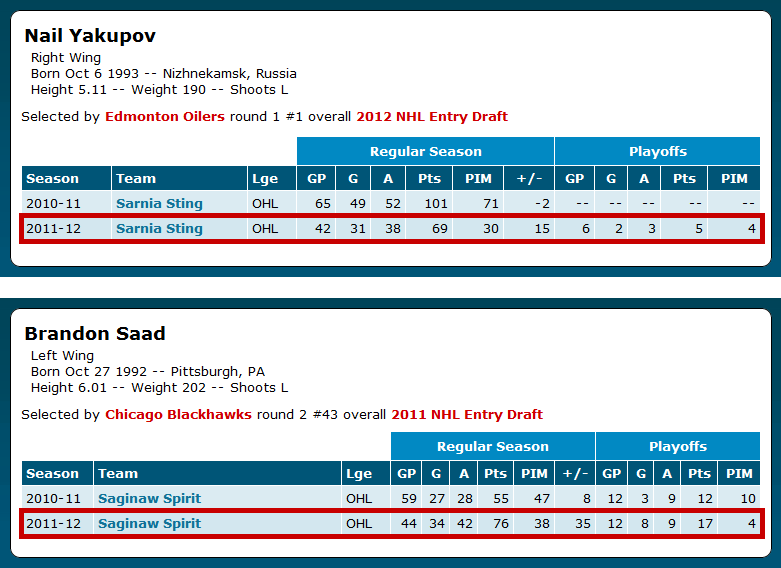 Brandon Sadd: 1.73 PPG, +35, awesome playoffs
Nail Yakshemash: 1.64 PPG, +15, short, meh playoffs
It's a small sample size, but I'm not complaining about the results. What a steal by Stan so far. Oops. Stan sucks.
There is also a way to loosely project a player's performance in his first year in the NHL. On average, the few players that make the jump from the OHL to the NHL score at a pace that is 30% of their previous year. So for Saad, that would be a 0.52 PPG pace. Projected over a season, that's 40-45 points for a rookie. Is that enough? By comparison, in Stalberg's breakout 2011-12 season, he had 43 points, so it should be.
And again, let's not forget about the guys ready to fill in. There are plenty of guys in Rockford and elsewhere, along with this year's draftees, to fill in or to deal for additional upgrades. The future's looking bright.
So over the next few days or weeks, over this summer, don't sweat the big stuff. You might (irrationally?) believe the Hawks currently have a dog of a team due to continued failures on the part of Stan Bowman or because they can't possibly win without __________ (insert Soupy, Byfuglien, Ladd, Niemi, or Boynton here), but IMO a tweak here or there (read: a goaltender), and this "dog" can hunt.