The Chicago Blackhawks dropped their straight game on Saturday afternoon in Tennessee, losing 4-2 to the Nashville Predators.
Chicago had the better of the play early on but Nashville turned things around in the back half of that period to take a 2-0 lead into the first intermission. Yakov Trenin opened the scoring with this goal at the 12:07 mark of the first:
Alex Vlasic had what could very well be the longest breakaway of his NHL career a few minutes after that Trenin goal, but he was unable to tie the game on it:
About four minutes later, Gustav Nyquist hopped on this rebound during a Nashville power play to double the hosts' advantage:
The Blackhawks pulled back within one when Philipp Kurashev pounced on this rebound in the middle of the second period after a nifty cross-ice pass from Seth Jones led to a Connor Bedard one-timer that Predators goalie Kevin Lankinen could not handle.
The one-goal deficit was short-lived, though, as Cole Smith scored his first of the game three minutes later:
In the third, Tyler Johnson made it a one-goal game again with this shot, assisted by a strong net-front presence from Corey Perry:
Cole Smith added an empty-netter — his second of the game — to seal the Nashville victory.
Notes
Chicago should probably stop giving up goals near the end of periods. Nyquist's goal was scored with 1:28 left in the first and Smith's first goal came with 3:40 left in the second. Any time will be a good time to buck that trend.
The Blackhawks' penalty kill was ranked seventh in the league at 86.7 percent on Halloween, as we explored in this space. It's now down to 16th place at 78.7 percent, having allowed a PPG in seven straight games. Something worth keeping an eye on.
Not Arvid Soderblom's finest hour and it's been a generally rough start to the season for the young netminder. His rebound control wasn't the best in this game and a solid argument exists that the first goal from Trenin is a save that a typical NHL goalie should be expected to make. There was some evidence of frustration when he spiked his blocker in the third period, likely sick of all the constant prodding and poking from Nashville's players. It's still very early in Soderblom's career and there's plenty of time left for this ship to be righted. Just chalk it up as a tough first month of the season and see what happens in his next outing.
The good news is that the Folingo-Bedard-Kurashev top line continues to dominate. During it's 12:21 of 5-on-5 ice time, that trio outshot its opponents 10-2, owned a 4-3 advantage in scoring chances and 3-1 advantage in high-danger chances and also scored the goal listed above without allowing any. And all of that came with an offensive zone start percentage of 45.45, so it's not like those minutes were sheltered. Keeping that group together seems like a no-brainer for the short term.
The second line of Hall-Reichel-Raddysh didn't score but was also above water in pretty much every possession-based metric. The bottom six, though? Yikes. The T. Johnson-Dickinson-Perry third line and R. Johnson-Entwistle-Donato had expected goal shares of 15.98 percent and 21.55 percent, respectively. But there's not much point in wasting too many worries on that bottom six because it's possible none of those players are here the long haul.
That's probably a good way to look at this game overall: one not worth wasting too much time lamenting. Losses to Nashville will never not be annoying but there's a bigger picture here unaffected by anything that transpired on Saturday. In fact, the top six that features a lot of the future fixtures here looked pretty good. So take that small moral victory and move along to Sunday.
Nashville's yellow sweater/helmet combo remains an affront to good taste everywhere and should be abolished from hockey.
Game Charts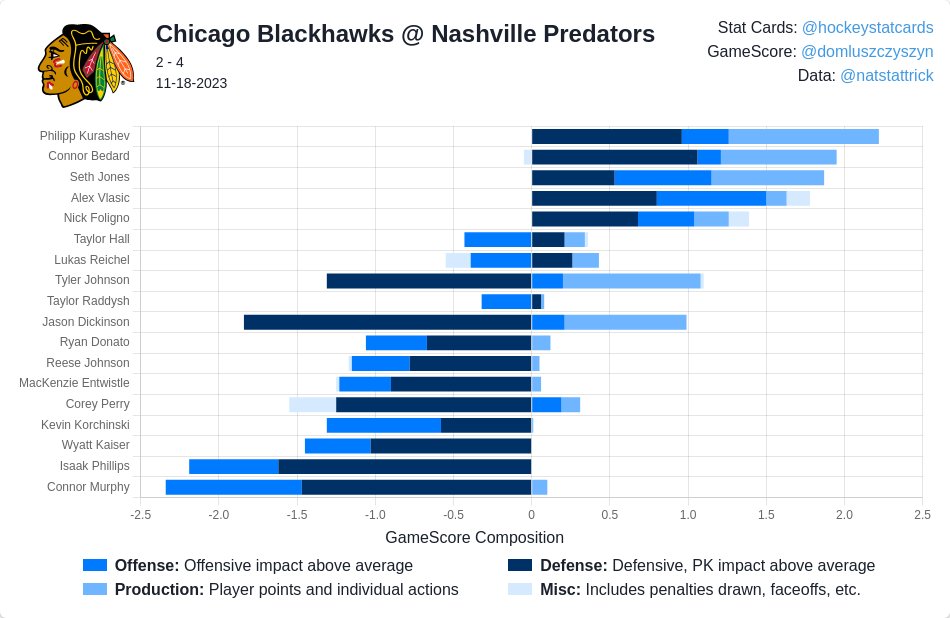 Three Stars
Cole Smith (NSH) — 2 goals
Yakov Trening (NSH) — 1 goal, 1 assist
Philipp Kurashev (CHI) — 1 goal
What's Next
The Blackhawks head back to the United Center on Sunday night to host the Buffalo Sabres for a 6 p.m. puck drop.